During the summer, Houston is hot. The season starts in May and ends in September. Parents with kids know how difficult this time of the year is. For instance, staying all summer indoors will drive you crazy. Secondly, going to the pool might also be a challenge, depending on the age and the swimming abilities of your children. Apart from that, pool opening hours might interfere with the children's naptimes. However, you will stop worrying once you discover the magic in splash pads. These glorified sprinklers are the best solution for extreme heat in summer. The following are some of the top splash pads in Houston that parents should take their children to try out;
1. Discovery Green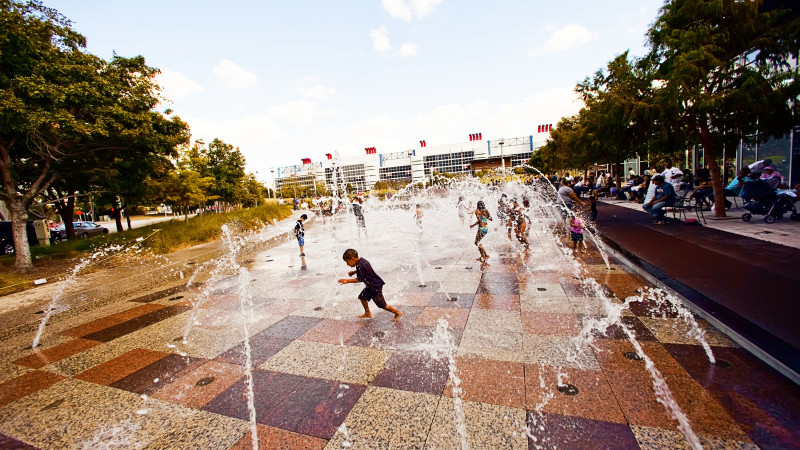 The Gateway Fountain, located at the Discovery Green, is one of the most popular splash parks in town. This park has many public restrooms for changing swim diapers. Kids can play in the park and have fun on the playground and in the motorized boats once they are done cooling off. On Monday, the park is open from noon to 7 PM while from Tuesday to Sunday, it opens at 9 AM to 7 PM.
2. Downtown Aquarium splash pad, Downtown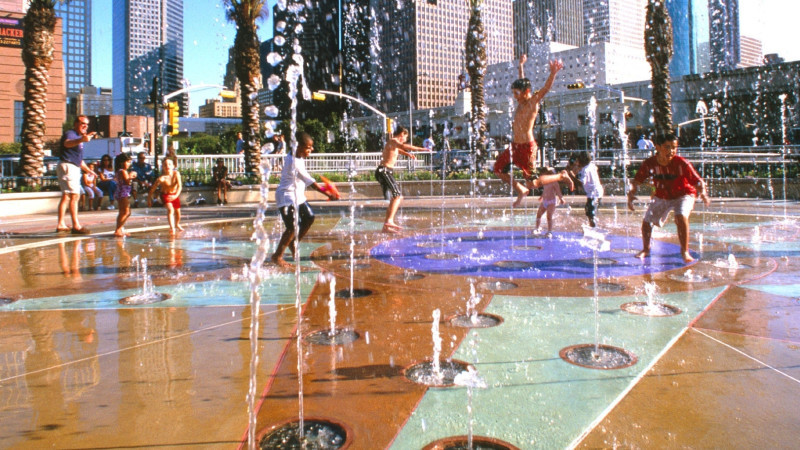 The splash pad is located outside Downtown Aquarium and can be accessed for free. Once you visit this spot, you should not worry about how you will change in and out of your clothes, because there are public restrooms for that. The aquarium rides can make the visit more amazing.
3. Hackberry Park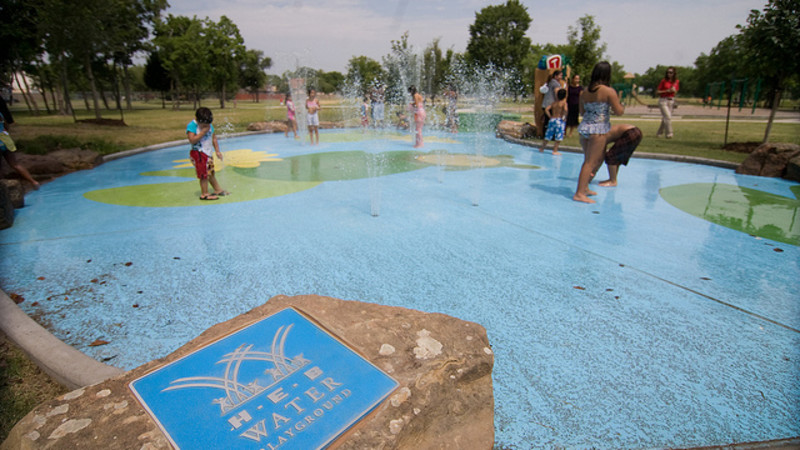 One of the fantastic things about this 1,200 square foot splash pad is that it is decorated with turtles, lily pads and in-ground sprayers. Every kid would want to cool themselves down this summer in such a beautiful spot.
4. Hermann Park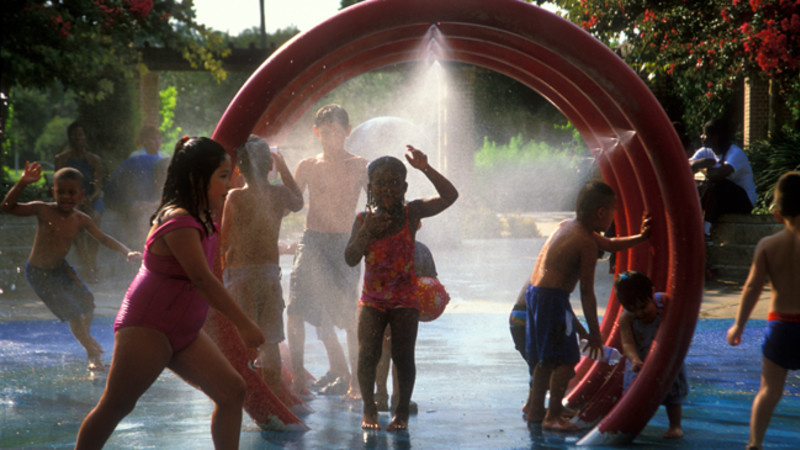 Hermann Park is located in the heart of the Museum District, a short distance away from the zoo and the playground for All Children. The large and well-maintained splash pad in this good old park is equipped with everything that one could ever want. Right next to the park, there is a real sandy beach, thus giving you a complete beach experience. Its location enables you to visit the splash pad as you go to the museum together with the family.
5. Levy Park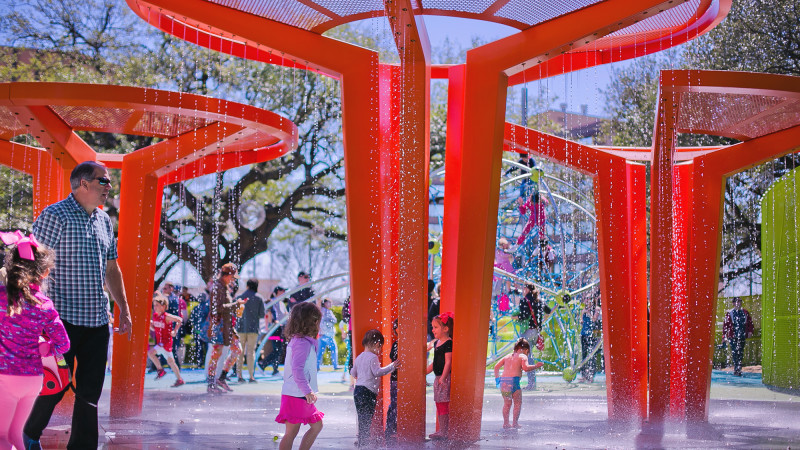 It is one of the best places to visit after having an outdoor exploration or a shopping trip to the Galleria. Water to cool you off comes from the towering orange structures. You and your children can entertain yourselves and have a lot of fun in this spot. You can also change clothe and diapers in the public restrooms in this interactive water feature.
6. Marian park
This splash pad in this park was built in 2011. You can let your child have fun as you attend an aerobics class at the community center.
7. Montie Beach Park
This beach-themed park has an adorable whale that spots water through. Experiencing the wave sprays gives you a wave effect that you do not want to miss.
8. Houston Zoo
This water play park is more than thirteen thousand, five hundred square feet. One fantastic thing about this summer oasis is that it has more than thirty different water play features. You can go for a cooling experience every day as from 10 am to 6 pm.
9. Quillian Center
The Quillian center has Noah's Ark-themed water play area. The water slides and the structure in this spot are amazing. Unlike most of the other splash pads, here you have to pay an entrance fee of $7. However, the adults get free access to the pool after spending the money.
10. Clear Lake Park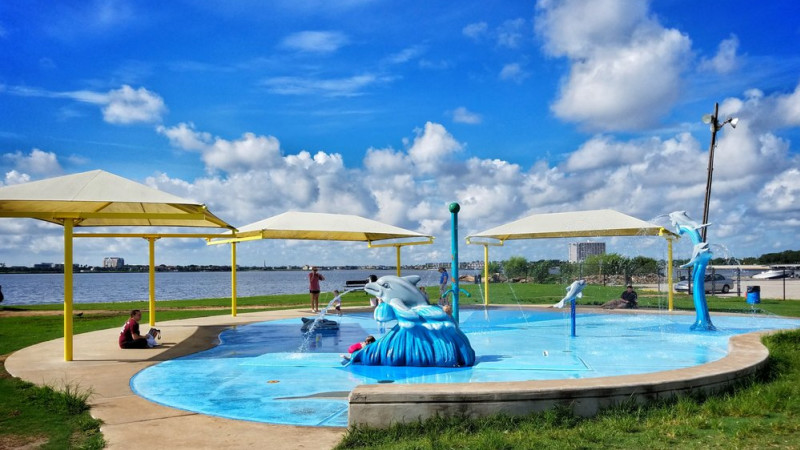 Clear Lake Park is another place in Houston where you can find a free splash pad. This park was developed two years ago. It features a new playground as well as fitness equipment. With the shade canopies, you can sit on your chairs and enjoy the Dolphin Lagoon together with your family.
There are many benefits of using splash pads to meet your summer cool down needs. They are free and open early in the morning. Kids do not require any swimming skills to enjoy these glorified sprinklers. Splash pads are convenient places to meet with friends on short notice. In Houston, there are many sprinklers, and the above are some of the best. The thing with splash pads is that you can never get bored of trying a different one every time.
---
Leave a Comment