If you miss the days of going to happy hour with your friends like in those pre-parenting days, we are here to help. Austin does not disappoint when it comes to family-friendly happy hours, and we have searched the city finding our favorite locations to enjoy happy hour with the kids in tow. Throughout this great city, you will find a wide selection of restaurants offering happy hour specials but also something for the little ones and some even invite you to bring the beloved family dog. Check out top 10 picks for Happy Hour with the kids.
Maudie's at the Triangle Place
Maudie's triangle is located next to a playscape with a vast grassy field, making it an excellent place for families to play and enjoy a great meal with great happy hour specials. Children get to enjoy space and play unrestricted staying within view of parents. The great atmosphere and food specials make Maudie's at The Triangle Place a great meeting place for families and friends, offering casual dinner outs.
Happy Hours:
Mondays, 3:00 p.m. – close;
Tuesday – Friday 3:00 p.m. – 6:30 p.m.
Shady Grove

Grab the family and head down to Shady Grove and enjoy the massive pecan trees on the patio located on Barton Springs Rd. There is a large grassy area where kids can run around under the pecan trees while you sip on a refreshing drink on the patio, during the spring and summer months on Thursdays you can enjoy live music.
Happy hours:
Monday – Friday 4:00pm -7:00 pm
Central Market
Being that this is an operation grocery store, they can offer a large menu to order from. They offer ample seating inside or take the family outside to the large patio that overlooks a large playscape and grassy area where children can play and run around. On any given day you might be able to catch a performance from some of Austin's locale musicians while you enjoy your meal on the outdoor patio.
The most attractive aspect of the Central Market is that their happy hour can be anytime that you want.
Phil's Ice House
Phil's Ice House is a favorite among most families due to their amazing burgers, cold drinks, and Amy's ice cream. This family-friendly restaurant offers an outdoor patio with seating next to the playscape; this playscape is inclosed, giving parents a sense of ease while they enjoy their meal.
Happy Hours:
Mondays-Fridays- 3:00-7:00pm
Easy Tiger
Easy Tiger is an awesome place for many fun activities. You can hang out with family and friends. Children always attach Easy Tiger place with giant pretzels and ping pong games. Families can enjoy happy hour prices and even bring the family dog to this pet-friendly restaurant.
Happy Hours:
Weekdays- 4:30-6:30 pm
La Mancha Tex Mex Tavern
La Mancha Tex is one of the best open patios in Northern/Central Austin. It offers serene and friendly breathing space for families to maximize on the happy hours. They have a small and fenced area of astroturf that children never seem to get enough. Their security is classic. At night, children run and roll around comfortably. You can also get to enjoy the happy hour weekly specials such as free ice cream for kids on Sundays.
Happy Hours:
Mondays, Wednesdays- Fridays- 3:00-6: 00 pm
Tuesdays, Saturdays & Sundays- 10:00am-3:00pm
The ABGB
ABGB is considered to be a South Austin favorite due to its wide selection of drafts, great food, and overall relaxing atmosphere. This family-friendly,pet-friendly establishment offers indoor and outdoor seating with an indoor stage where the local musician will play on any given night. There are a few outdoor activities for anyone interested in playing a few games.
Happy Hours:
Tuesdays-Fridays- 3:00-7:00pm
Doc's Backyard
Doc's Backyard is locally owned and located in Sunset Valley, offering families a great place to come, relax and enjoy a great meal. The huge outdoor patio with playscape is a great place for kids to play while their parents can enjoy watching whatever football team you support one of the many TVs throughout the restaurant. This is a great location to enjoy happy hour Monday – Friday with the family, you can even bring the family dog.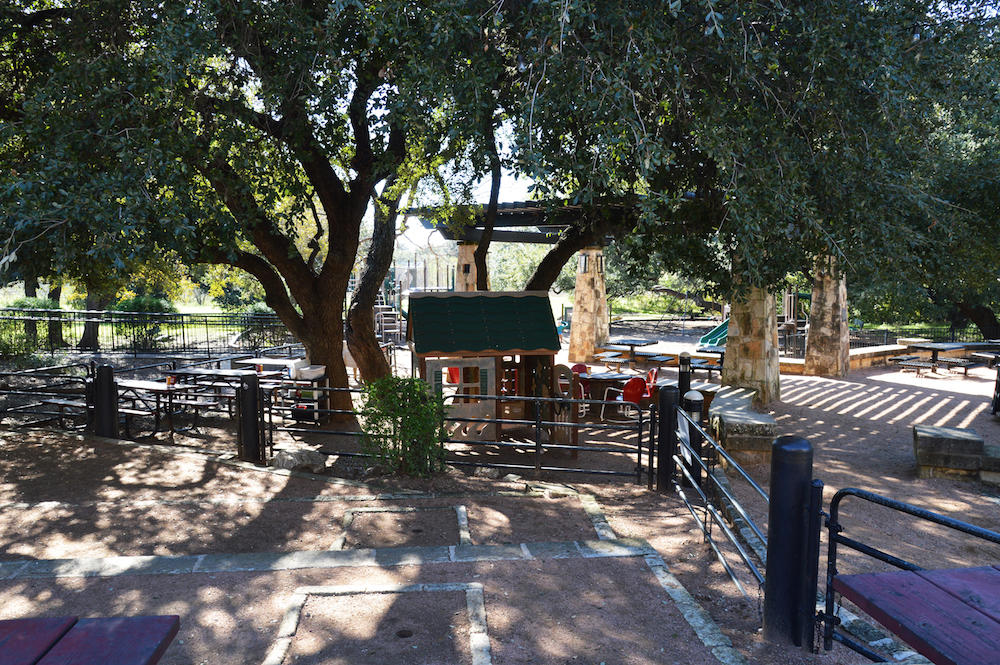 Happy Hours:
Monday – Friday, 3-7 p.m
Lucy's Fried Chicken
If you're looking for lakeside views, a jungle gym and trees for the kids to play on and a great atmosphere you need to the family to Lucy's Friend Chicken. This family-friendly restaurant offers delicious comfort food, great happy hour prices and will leave the whole family wondering when the next Lucy's Fried Chicken outing will be.
Happy Hours:
All day Monday-Wednesday
Thursday & Friday 11-7
Pinthouse Pizza

Pizza lovers will say that is this the best place for pizza and draft beer. Enjoy weekly happy hour with a wall full of award-winning craft brews with even better pies while the kids enjoy classic arcade games. You and your family can enjoy a casual and inviting atmosphere with open seating.
Happy Hours:
Monday-Friday 5 PM-6 PM
Whether you and your family are looking for a new pizza spot, some excellent comfort food with live entertainment or just a delicious burger, these locations are sure to make the whole family happy. We hope you enjoyed our top picks and try one or all of them and make some new family memories. Like always, safety is essential so don't forget to you have your designated driver or favorite ride-share lined up.
---
Leave a Comment